Drawn from the very latest property and suburb trends, this invaluable and unique property investing data can help you target areas producing results that match exactly what you are searching for.



This pack of 7 Suburb Affordability and Growth Suburb Reports will give you valuable suburb data at a nationwide and state level

and have been downloaded by over 80,000 Australian property investors already.

Receive these top 50 suburb reports at national and state level
Smarter to buy than rent suburbs.

Cheapest rental suburbs

Fastest median growth suburbs.

Best 4 year growth average suburbs.

Cheapest suburbs.

Biggest 4 year price decline suburbs.

Biggest average median price decline suburbs.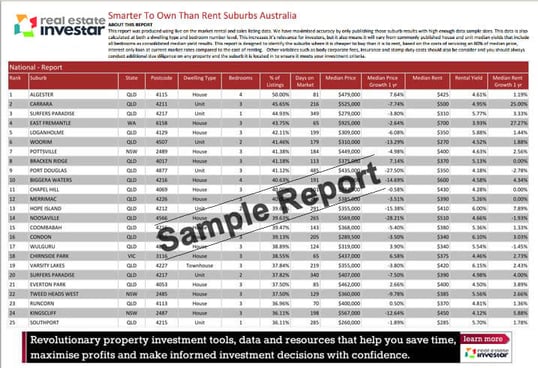 These suburbs reports can help you in lots of ways there including
Identifying

suburbs experiencing the fastest rates of median growth.




Targeting

areas where owning is more affordable than renting.




Finding suburbs where you can purchase property for as little as $50,000.


Avoiding the suburbs experiencing declining rates of median price growth which could lead to financial disaster.