Download your FREE reports now!
---
By downloading this suburb report, you will receive occasional property investment emails from Real Estate Investar. It's a free service and you can unsubscribe at any time.
Your details are safe with us. We will never share them with any unauthorised third party.
Free Download - 7 University Suburb Growth & Performance Reports Valued at $693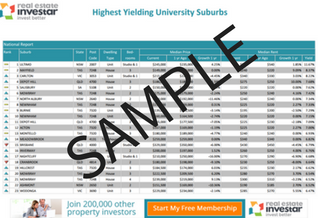 The Real Estate Investar Suburb Performance Reports are an increasingly important asset for today's property investors.

Why? Because investing without knowing the very latest property market trends means you may miss out on opportunities in areas that are producing the best results.
Steady demand for student housing, together with constant increases in tertiary enrolments, could make university suburbs a great opportunity for smart investors.
This pack of seven reports gives you the latest university suburbs growth and analysis data at a nationwide and statewide level, allowing you to target areas with criteria that match your strategy and buying rules.
Highest yielding university suburbs.
Top 50 Fastest growth university suburbs
University suburbs with largest average annual median price increase in last 4 years
Fastest rental growth university suburbs
Lowest vacancy rates university suburbs
Biggest turnaround university suburbs
University suburbs with largest average annual median rent increase in last 4 years
Use suburb reports to:
Find the university suburbs producing over 9% gross rental yields right now - ideal if you are looking for positive cash flow.
Find the university suburbs with the fastest growth - a preliminary indicator of where the market in the area may be heading.
Discover the cheapest and most expensive university suburbs so you can target areas with properties that match your strategy or buying rules.